Activities
Enjoy a wide variety of activities in and around Grandpa's Farm Campground & RV Park in Richmond, Indiana!

Whitewater River - Although there is no true whitewater on the river, there are many scenic views present, so wading, playing in river are all ideal ways to enjoy the water and scenery. Fishing is available from the banks at Grandpas Farm Campground.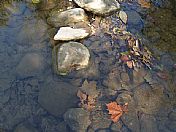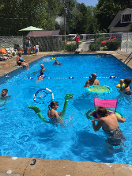 Outdoor Games - The campground & RV park features a heated swimming pool with a diving board. Kids and adults alike can enjoy a refreshing swim or relax under the summer sun by the pool. In addition, we ask that infants and toddlers that are not potty trained wear an extra waterproof layer over required swim diaper. There are opportunities for outdoor games, like volleyball, basketball, shuffleboard, horseshoes, frisbee, hide 'n seek, and more! There is even a playground for younger children to enjoy!
Indoor Games - If you prefer to stay dry, then come inside for enjoyable activities. The recreation room features billiards, arcade games, ping pong, and more!
Grandpa's Farm Campground & RV Park also hosts planned activities and celebrations throughout the camping season, including bingo, arts and crafts, and a chapel service on Sundays.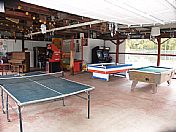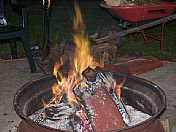 Local Activities - Grandpa's Farm Campground & RV Park is in close proximity to a wide range of local activities including hiking, bird watching, wildlife viewing, golfing, horseback riding, and so much more! There are several natural areas nearby including the Whitewater State Park and the Middlefork Reservoir. You'll also find intriguing Indiana attractions for the whole family, such as the Indianapolis Zoo, the Indy 500 Track, Model T Museum, Hayes Arboretum, Antiques, Thistlethwaite Falls, Cardinal Greenway and several museums.